Reviews
LIVE - Milton Keynes - Crauford Arms - 15th March 2019
The ELECTRIC BOYS / LAST GREAT DREAMERS
The Craufurd Arms is undoubtedly one of the best independent venues which promotes an impressive array of domestic and international bands. Tonight's openers are the Last Great Dreamers who're a band who succinctly encapsulate what's so good about raunchy rock n' roll. From their frenetic live show to their powerful, anthemic songs with hooks that would floor Anthony Joshua the Last Great Dreamers aren't here to be ignored. Like some of the better bands from the late '80s they simply got lost in the shuffle but now, after years of languishing in the 'should-have-been-massive' file they're back to right some wrongs. Hitting the stage like a well oiled machine they play a crowd pleasing set that soon pulls in the stragglers from the bar. Four friends who share an obvious love of music their high octane performance is a joy to behold and 'Oblivion Kids' is a definite highlight.
Even when they were scoring chart hits in the late '80s The Electric Boys seemed out of sync with the prevailing musical trends. Their love of Hendrix and the Eastern flourishes that peppered their work set them apart from their peers. However this timelessness has aided their longevity and means they've aged better than many of their contemporaries. A mixture of '60s rock and '80s metal 'Hangover in Hannover' was tailor made to open sets and it certainly adheres the band to the crowd. Aside from some trouble with a microphone stand(!) The Electric Boys turn in a professional performance and having a lively opening act has certainly raised their game. I first saw The Electric Boys headlining The Woughton Centre just down the road in Milton Keynes way back in 1990 and that memorable show is forever burned in my memory and I'm sure I'll recall this equally impressive gig in 2048.
Having released one of 2018s best rock albums in the shape of 'The Ghost Ward Diaries' this show finds The Electric Boys on a roll and the fun they play with simply radiates from the stage. Playing with their original line up The Electric Boys evidence a real chemistry that verges on telepathy and faithfully transfers their studio sound to the live environment while adding a dash of excitement. No one minds that tonight's set is weighed in favour on the new record as the modern tracks nestle next to the classics effortlessly. However there are plenty of fan favourites to keep the faithful happy as 'First The Money...', 'Angel In An Armoured Suit' and 'Rags To Riches' all get an outing. 'All Hips And Lips' is pulled out to close the set and ignites the venue with its sensual smouldering groove. Come back soon, guys.
https://www.facebook.com/altpulse/
---
LIVE - HRH Sleaze Festival - Sheffield - September 2018
Next up it was Last Great Dreamers, a band that has been on the rise since their reformation and subsequent album release 'Crash Landing in Teenage Heaven', along with tours with Cherie Currie, The Quireboys, The Darkness, Terrorvision and Tigertailz to name a few. 
Slyder, Marc, Denley and for this show guest bassist from Tigertailz Mr Berty Burton, once again showed us that you cant keep an old dog down, as their infectious groove filled rock n' roll rocked the house loud and proud.  Their energy, enthusiasm and addictive songs all go to show why this band have become such a firm favourite with HRH crowd.
A band that refused to be pigeon holed so much they've rocked not just the Sleaze Festival, but also the AOR Festival and even rocked out in Ibiza on the Roadtrip.  Who could forget their bad boys of rock acoustic set in the seal pit?!?.  
But it's on the big stage that is where these guys are most at home and the huge crowd down the front for the duration of their set proved they were a very worthy addition to the Stage One.  Hopefully we'll see them return to the main stage next year when they play HRH in the Spring.  They certainly deserve it!  
http://www.themayfairmallzine.com/gigrev18/HRHSleaze18.html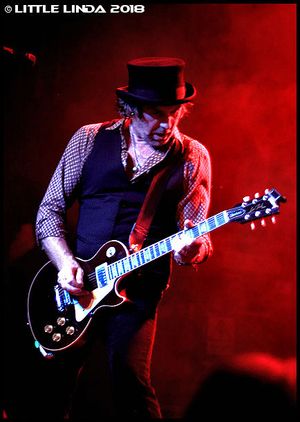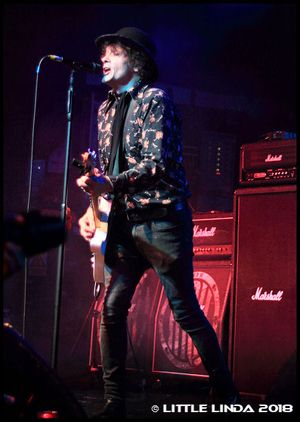 ---
Last Great Dreamers (Live) London - Nells Jazz & Blues (w/The Tearaways ft. Clem Burke) 17/08/18
I was asked to go and review Last Great Dreamers again this time supporting The Tearaways an allegedly legendary bar band from Santa Barbara who have a certain Mr Clem Burke on the drums currently.
Last Great dreamers opened with a great and as ever perfect slice of Junkshop Glam that is New Situation with Marc Valentine as ever holding onto the microphone for dear life as he sings. 13th Floor Renegades it was good and spunky with a great concise solo from Slyder Smith and although the sound in Nells was a bit clean for them it still had plenty of grit in it.
White Light (Black Heart) was played in a trashy blur with the despair at the antics of the person it's aimed at made clear before they take us all to the Glitterball Apocalypse that as ever goes down a treat even if this venues apocalyptic years were back when it was a table dancing club surely. Yes as ever they then play the b-side to Glitterball Apocalypse the always fantastic The Way We Collide that was pretty spot on.
Miles Away was as trashy as it could sound in this room and they were really enjoying themselves on Message You a 100 times even if the lyrics make them sound a touch stalkerish. I think I Like It is pretty much the reaction of everyone present.
It was a bit early to be singing Going Home as we still had another band coming on but it is a poignant song and sounded great before they blasted through The Oblivion Kids at a hell of a pace before closing with a great version of Primitive Man to leave us wanting more from them.
By Simovitch - Whisperin' & Hollerin'
http://www.whisperinandhollerin.com/reviews/review.asp?id=14320
---
LIVE - GLASGOW Nice 'n' Sleazy 21/04/18
No matter how you engage with live music it is a fact that not every single show you attend will send you home with a jaw aching smile etched on your face, a ringing in your ears that is competing with the roaring beat of your heart, and a belief that rock and roll can change the world.
They come few and far between at the best of times, but when they do they serve to reaffirm your faith in all that is good about diving headlong into music.
If you do manage to be in the right place at the right time to experience one of these gigs then they serve to act as a solid adrenaline kick to the system, an amphetamine rush to the senses that makes the world sharper, brighter, and just that bit easier to deal with.
And that's exactly what the Last Great Dreamers delivered when they rolled into Glasgow to dispense their own brand of elegantly wasted rock and roll.
It was one of those rare as rocking horse shit gigs that provided a huge dose of undiluted high octane salvation from the grind of life.
Yeah, okay, I'm a sucker for the style of music they play, but that being said I have seen plenty of bands do variations of it, and while I've had a blast at the time it's fair to say few press down as hard on all my buttons as these guys do.
Hanoi Rocks did it. The New York Dolls too. It's not that I'm claiming that the Last Great Dreamers are impersonators of these bands, but rather that they share the energy levels and attitude that they had. When you go and see the Last Great Dreamers it's all one hundred percent Last Great Dreamers that you get. They aren't imposters to the throne, but rather they are the descendents just waiting to be told to take a seat.
That I was unaware of who they were mere months ago is something that I'm coming to terms with. I could have had years worshiping at their altar but with my attention diverted elsewhere I missed out. That's the past now, and there's no point spilling hot tears onto the keyboard dwelling on it because I'm here now.
And late to the party I might be, but I'm ready to spread the word like some gutter preacher with an evangelical hard on for this band.
Ask me to give them marks out of ten for their set and I will look you directly in the eye and say it was about a twenty. I dare you to even question the logic to that reply.
Unfortunately the tour is finished now. You missed it, and you are now going to have to take a long hard look at yourself in the mirror and accept that you let yourself down.
On the upside they will be back. There are some festival dates in the pipeline and hopefully I can persuade them to come back to Scotland at some point in the not too distant future. I want a piece of this pie.
It's still early in the year, and we have already enjoyed some very special gigs, but this wasn't one of those very special ones. It was more than that. Much more. 
Reservoir Droogs 23/04/18
https://reservoirdroogs.blogspot.com/2018/04/last-great-dreamers-nice-n-sleazy.html
---
Vive Le Rock mMagazine Feature - April 2018 Issue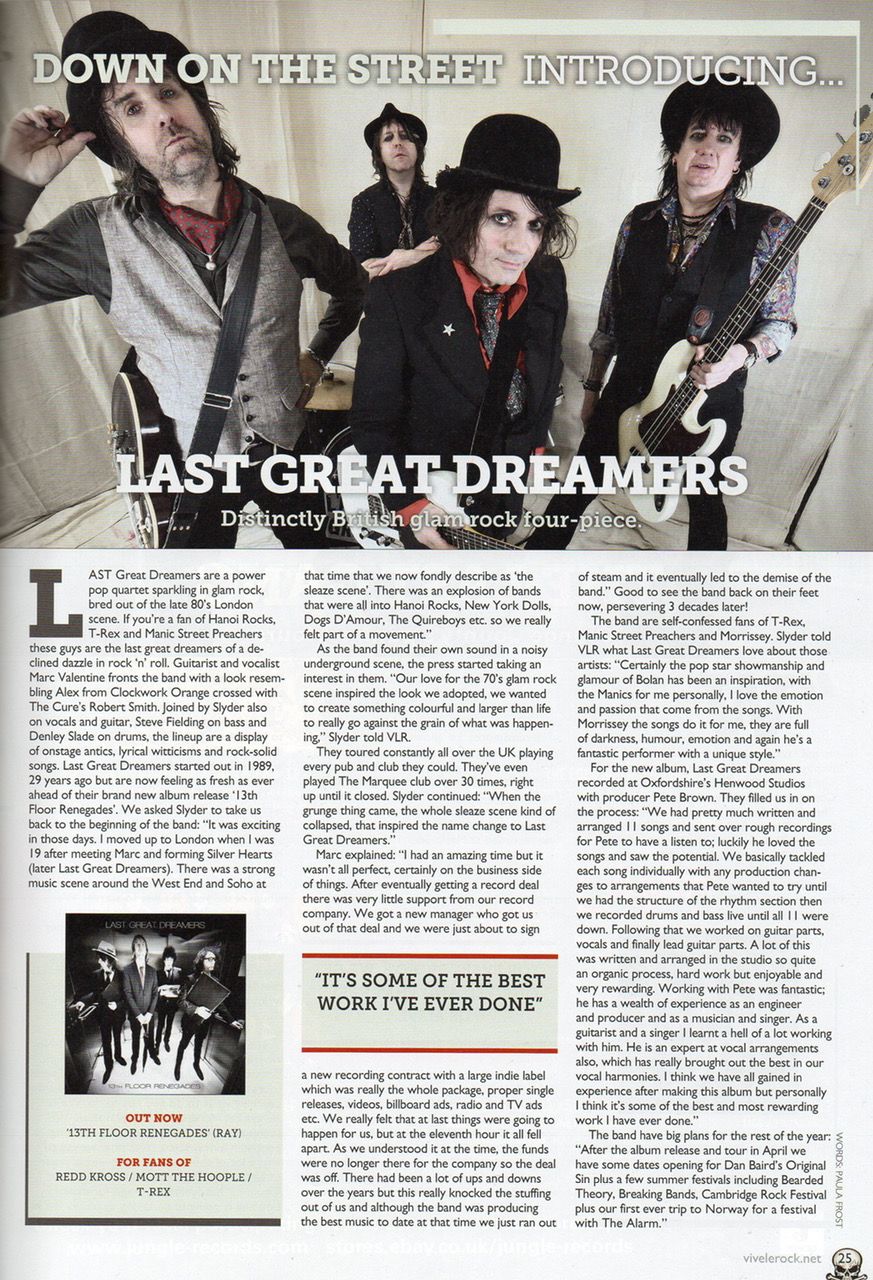 ---
Vive Le Rock Magazine - Song Feature - April 2018 Issue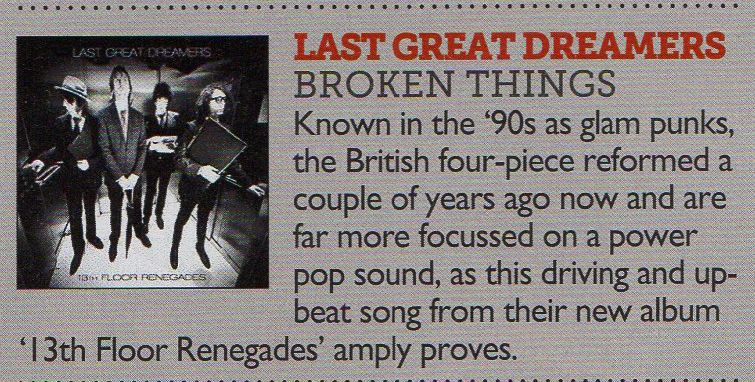 ---
Vive Le Rock Magazine - Live Review - 12/04/18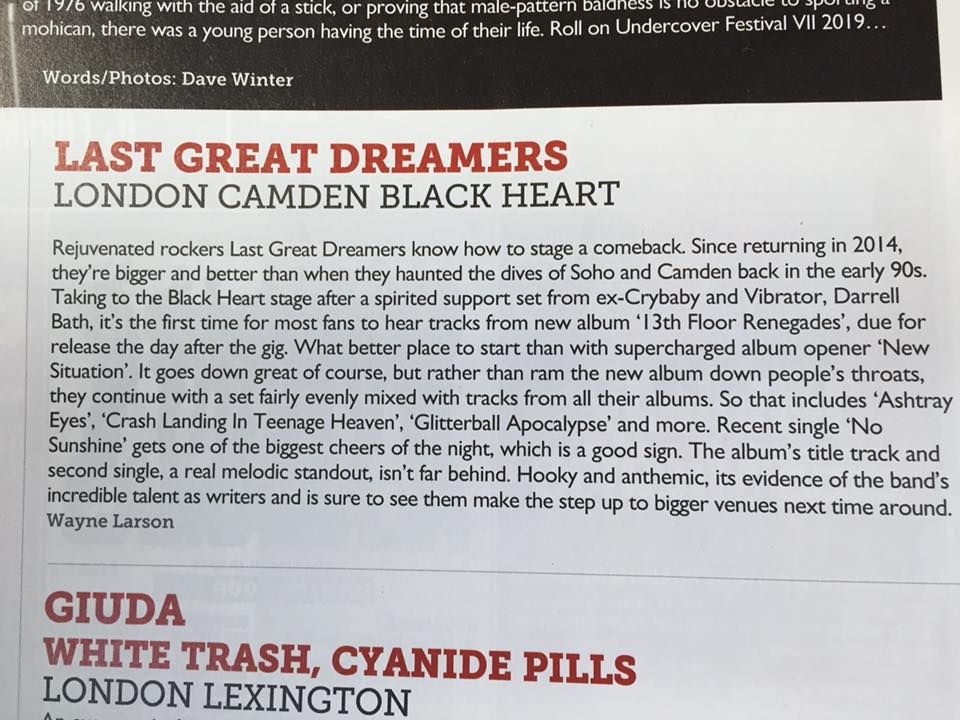 ---
Last Great Dreamers – 13th Floor Renegades (Ray Records) - Album Review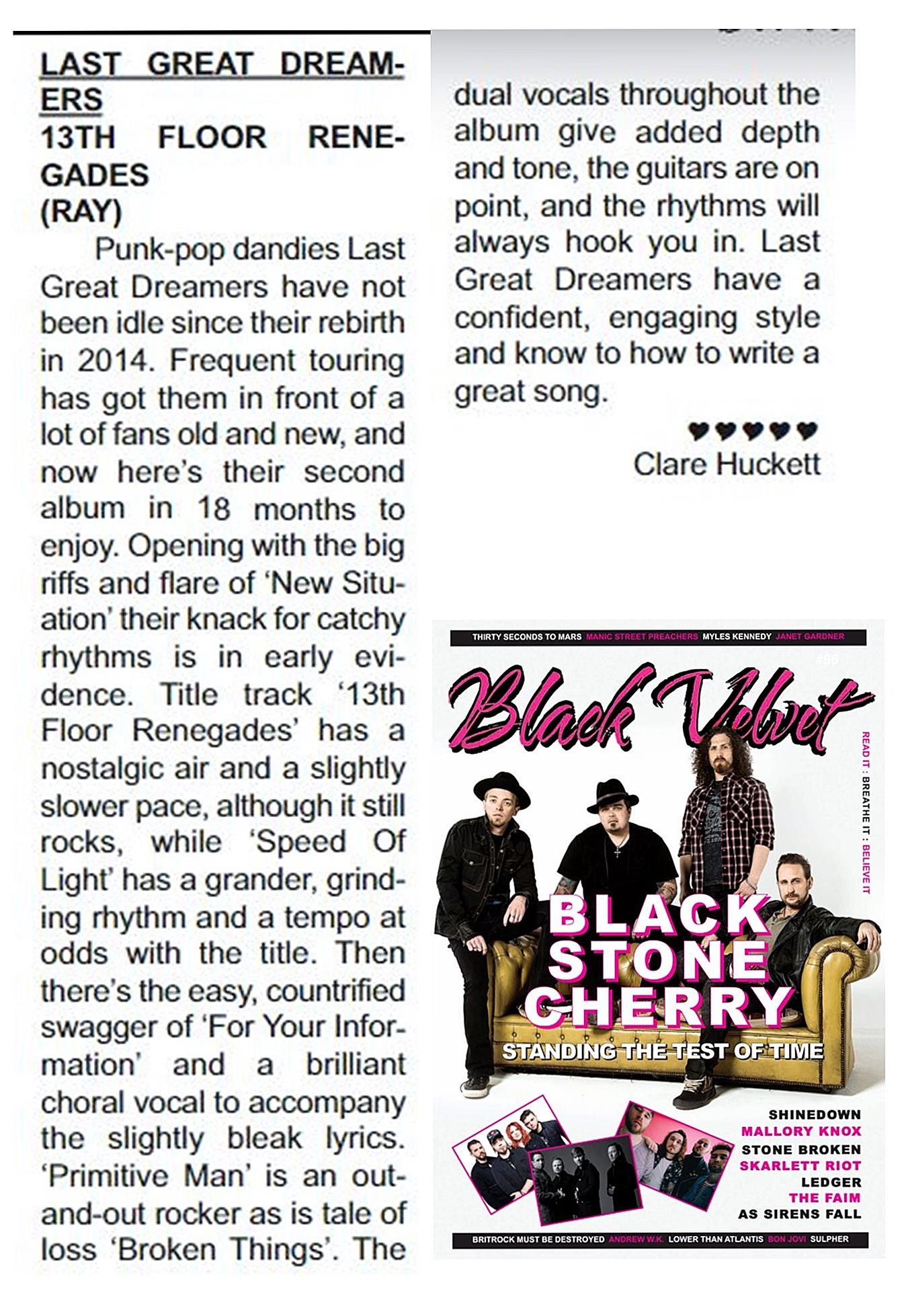 Clare Huckett - Black Velvet magazine 
---
Last Great Dreamers – 13th Floor Renegades (Ray Records)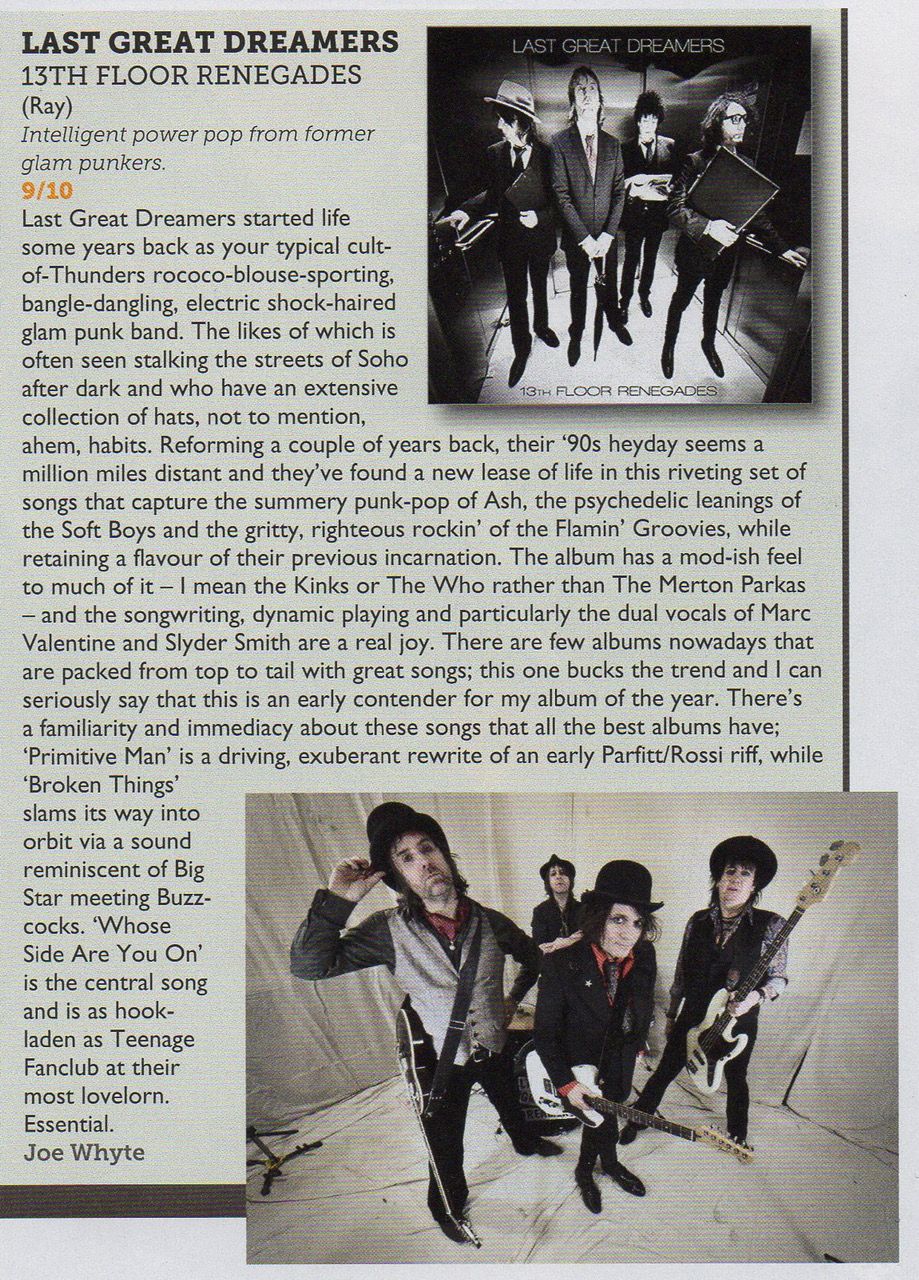 Joe Whyte - Vive Le Rock April 2018
---
Last Great Dreamers – 13th Floor Renegades (Ray Records)

The majority need a pigeonhole so you can file things away nice and neatly to make everyone happy. You put this here, that there and, what's this? Last Great Dreamers? Where the fuck do I file that? Cue much disarray and panic from the stiffs. Luckily, not everyone is the majority and some can let in a little sparkle and embrace those who are forever out of step and time.
Only to be outdone by The Quireboys in the outfit stakes, Last Great Dreamers unleash album number four. Yes, we can look back at the past and fondly remember the "what might what have beens" in the 1990s following Kerrang! nominations and yadda, yadda, yadda. With 13th Floor Renegades, and since their rebirth in 2014 really, the cheeky chaps are doing things on their own terms and they're all the better for it.
The familiar bounce is on display with opener New Situation, complete with Roger Daltrey stutters, and Broken Things later on down the line cements the power pop prowess. The most telling lyric comes from the title track: "In my delusion, we could be champions." If there was ever words to sum up the Dreamers' tide swimming antics, then this is it.
Big choruses are aplenty courtesy of I Think I Like It and Who's Side Are You On, whilst Miles Away plays musical homage to the Faces. A mid album diversion on For Your Information takes us down a swinging 60s Carnaby Street escapade with The Kinks and there's time for an Ian Hunter wink on Primitive Man too.
Last Great Dreamers have called on every influence for 13th Floor Renegades, and that's no bad thing. Play to your influences, twist them, add your own spin and have fun. They may still be too poppy for rockers and too rocky for poppers, but as the latter half of album closer Going Home rings out in a show-stopping Mick Ronson guitar haze, you can envisage the ticker-tape falling onto Slyder and Marc Valentine's three button hand me downs. If the band name ever rang true, then it's now more than ever.
Ginge Knievil - Mass Movement 
http://massmovement.co.uk/?p=19422
---
Last Great Dreamers – 13th Floor Renegades (Ray Records) - Album Review
Second time around for former glam-trash rockers. Joe Whyte reviews the astonishing new album. 
Last Great Dreamers clearly believe in second chances. Their previous incarnation were one of those nearly-were bands of the late nineties who released a couple of well-received albums and carved a niche as shaggy, glam-infused, punk-tinged rockers in the mold of Hanoi Rocks, Johnny Thunders or The Wildhearts. Typically, these kinda bands dissolve in alcohol and chemical ravaged meltdowns but Last Great Dreamers (who were previously known as Silver Hearts in case you didn't know) and who were at one point the toast of the Soho glam-punk scene, basically fizzled out due to waning interest from the greater public and the band themselves.
Reforming in 2014, the band have already released a third album, Transmissions From Oblivion, to widespread acclaim and this new one sees them forge ahead with the mod-ish, rock-pop hinted at on that release. The typically opiate-rock influences have very much disappeared as has that elegantly-wasted, bedraggled, bangle-dangling, Izzy Stradlin-style beloved of the glam-punk scenesters; replacing them are a peppy, power-pop direction that has more in common with Cheap Trick and The Flamin' Groovies than The Dogs D'Amour or Guns 'N' Roses.
There are very few albums released nowadays that are great from start to finish; this one is and I mean that. Every (and I mean EVERY) song is an absolute cracker and there's a thread of familiarity running through these tracks in that way that they have an immediacy that is instantly likable.
The album is characterized by a couple of things:  the twin vocals of Marc Valentine and guitarist Slyder (a nickname that's surely a hangover from their previous incarnation!) which mesh beautifully throughout the songs, giving an almost Beatles-esque sheen to much of it, adding to the frankly ridiculous amount of hooks throughout the albums eleven tracks. At one point, I actually thought that Whose Side Are You On? was a rocked-up version of some X Factor boy-band single as it actually is that catchy – that's not meant as a slur by any means, I'm as much of a  sucker for a big pop hook as the next guy. That same song has a gorgeous summery intro that leads off into a Thin Lizzy-style guitar duel before the chugging verses with it's Diggle/Shelley-like "ooh-oh"' backing vocals and that bittersweet, illuminating chorus.
For Your Information and Miles Away are the two slight detours on the record; both have a swagger reminiscent of The Stones during their Gram Parsons-robbing phase and the former has lightly brushed drums and a walking bass adding to the country rock feel. The vocals have that laconic Ray Davies vibe to them and the spiraling lead riff that follows the melody is a nice little flourish. The latter, (Miles Away) follows a similar Stones-y path but has hints of Big Star in its chiming guitars and of The Jayhawks guitarist Gary Louris in the searing guitar solo. The acoustics and mandolin in the background compliment the melodic and subtle bass runs of Steve Fielding. The chorus of "I'm not the same, I'm miles away" is solid gold.
Primitive Man is perhaps the closest thing here to their previous sound; a sizzling early Status Quo/Creedance-style chooglin' boogie leads into a glammy stomp with pummeling drums from Denley Slade channeling the track into the sort of catchy pop-punk that the International Swingers do so well  before a squalling lead break and a call-and-resonse coda. Broken Things is the punkiest thing herein; a deceptive acoustic and vocal intro gives way to a song that's reminiscent of Ash at their best with its slamming chords and falsetto backing vocals. Like most of the album, it's chock-full of hooks and is crammed into the sub-three minute mark. No bad thing, quite frankly.
New Situation reminds me of a couple of things:  firstly The Who in their early days and secondly,some of the unsung heroes of the later new wave- I'm thinking Suburban Studs, New Hearts, Rich Kids and the like. It's a thrill ride of pealing guitars and rollicking toms and yet another stick-in-the-mind chorus. You may have guessed it by now, Last Great Dreamers are rather good with a chorus. The title track (13th Floor Renegades, natch) has a bit of Blondie in its chord sequences and Debbie and co's love of 60's girl groups is enmeshed in the track. It's slower and steadier than the rest of the album and the little pause before the chorus bursts in is quite brilliant in its simplicity.
Closing with what seems to be another breezy punker in Going Home is deceptive; the song arcs off after about three minutes into a dreamy, psych-tinged work out that caps the album off swooningly.
Buy this. You'll like it. Trust me.
Written by Joe Whyte - Louder Than War 28 March, 2018
https://louderthanwar.com/last-great-dreamers-13th-floor-renegades-album-review-ray-records-lpdlcd-out-14418-910/
---
HRHAOR Festival  - 10th March 2018
"Last Great Dreamers brought their genre of pop/rock to the stage in arena 2, glam rock influences with riffs and attitude thrown in, the guys who are currently touring have an edge to their music which takes it from pop to something much more gritty and sleazy. Only catching part of their set, I am not qualified to give a wider review but I would recommend catching the band for one of their live dates."
Lindsay Smith-Boam - Down the Front Media
https://www.downthefrontmedia.com/down-the-front-media/live-gig-reviews/hrh-aor-day-3-10-03-18/
---
Last Great Dreamers – 13th Floor Renegades (Ray Records)
"Hot on the (Cuban) heels of their last album, the UK's most eligible dandies Last Great Dreamers have settled on a line-up and hot-footed it into their Oxfordshire Studio to fill their (well-worn snakeskin) boots to the brim with a collection of 11 tunes that have the feel of what they've done before, what they have listened to all their lives and what the people want and have evolved into their finest, most accomplished album to date.
From the first floor offering of the rather splendid rocker 'New Situation', the line is drawn in the sand and were off and motoring it's a foot stomping with plenty of fuel in the tank as the song rocks and rolls to the chorus and the band is humming nicely like a finely tuned motor.  The title track is up next, and we ease back with something of a quintessentially British feel as we swing our pants to the chorus, where we can all join in and bounce around together. It's brimming with power pop goodness and a cheeky smile and a nudge, nudge, wink, wink to its influences.
As we ease back on 'Speed Of Light' and the intro for 'No Sunshine', we're lulled into a false sense of security, as the boys sling a cheeky one out and rock and roll for our listening pleasure, turning the guitars right up for some purposeful solo before the rhythm section lay back on an infectious groove.  I think LGD have embraced aspects of North American rock and roll and managed to perfectly marry them to something very British that's being handed down from the likes of The Kinks and The Who through Bolan and Bowie: whilst I'm not saying this is as good as them, it is made up of their parts and the finished album flows really well and the songs sound great. Already I think it's fair to say that' from the first offering of 'Retrosexual' through their existence' this is their finest moment so far.  Offering variety, 'For Your Information' with its Ray Davies crafty swagger and gentle delivery, to the glam bang thank you, ma'm, of 'Primitive Man' that I'm sure Bolan and Ronson would have loved.  It's got lush vocal melodies ('Whose Side Are You On') with great gang chorus.
'Miles Away' has feeling, as does the fist-pumping 'Broken Things'.  Like I said, this is the bands finest hour and everything they've worked on before is pulled together to make their best record to date.  Pledgers are gonna love it, and new fans will be kicking themselves as to why they've not gotten on board sooner. I'd be delighted for this to lift off like Willy Wonka's lift and soar away too much success and to finish off with a Hoople-esque 'Going Home' is the cherry on the icing on the cake.  Have yourself a slice folks… it's a killer record. Last Great Dreamers have made an album that sounds original and, most of all, damn bloody good.  Now going up through first-floor menswear, jewellery, haberdashery and soft furnishings, up to the 13th floor, where we find these renegades purveying their high-quality rock and roll.  Buy it!"
Dom Daley - Uberrock - 14 March 2018 
http://www.uberrock.co.uk/cd-reviews/23-march-cd/20217-last-great-dreamers-13th-floor-renegades-ray-records.html
---
Last Great Dreamers – 13th Floor Renegades (Ray Records)
"The Last Great Dreamers (LGD) are back with their fourth studio album,  a lot earlier than envisaged by guitarist Slyder who remarked in 2014 that the band would hope to have a further album out by 2034.  The remark was probably in reference to the gap in the bands back story.  Formed originally in 1990's and going under the name 'Silverheart',  they hit the scene with their own brand of rock n roll swagger,  commonly referred to as power pop rock, think 'Cheap Trick' and 'Bad Finger'.  After many gigging line-ups,  their hard work paid off and just before they secured a record deal 'Silverheart' decided upon a name change and so 'The Last Great Dreamers' were born.  Dressed to thrill in stack heels and 70's flared bottom suits, and signed to Bleeding Hearts Records they went about to record their first album 'Retrosexual' but it wasn't without its ups and downs and come the mid 90's,  the band tensions, and further line up changes etc had taken its toll.  As an attempt to reinvent the band they briefly changed names to Jet/Jet City but now the music industry had taken a fall and  these power pop rockers decided to call it a day in 1997.
So what now?  After a long hiatus and playing in other bands, vocalist, Marc Valentine and Slyder reunited and reformed  'The Last Great Dreamers' in 2014 along with original drummer Ginge and ex SH/LDG roadie, Ian Scruffkid on bass;  they released an album of rarities and hit the road opening up for acts like The Darkness, Terrorvision, Hey Hello & Cherie Currie (Runways ex singer),  they again, began to leave their mark on the scene,  promoting their aptly named 3rd album 'Transmission from oblivion'.  They embarked on a 20 date tour Supporting 'The Quireboys' –  which is where I first saw this band and I couldn't believe they had passed me by!
Now after a successful run of shows in the UK, LGD took to Europe playing a 10 date tour  in Spain. Now back in the UK they are due to promote '13th Floor Renegades' with an official album launch show at the Asylum in Birmingham on 7th April, after which you can catch them on said tour and at numerous festivals!
I would expect to hear blinding tracks off their latest album like 'New Situation' a stand out rock n roll number, upbeat and full of energy.  'Speed of light' with its electro synth rock pulse, sucks you in with its melodic cool drums beats.  'I think I like it' is  very bouncy and a typical LGD pop rocky number, which reminds me a little of 'the Ramones'.    LGD delve into some  hard rock  on 'Primitive man' and 'Miles Away' is reminiscent of 'Boy Dylan' meets 'the Faces '.  These guys have definitely been there and have bought the tee-shirt but they are still here with their vivacious rock n roll sound.  I wouldn't say this album has a sleazy reputation like it's predecessors, but rather has a more accurate representation of where the band is now in life and despite the rigours of the music industry 'The Last Great Dreamers'  are still confident,  full of prowess and are not letting up,  playing real rock n roll to the bone.  You must check them out live because that's where the real magic happens, on stage!!"
Alex English -  Planet Mosh - 12 March  2018   http://planetmosh.com/the-last-great-dreamers-13th-floor-renegades/I 
---
LIVE - HRHAOR March 2018
I'd last seen Last Great Dreamers last year at exactly the same venue when they were substituted at short notice for a band who couldn't make it, and having been impressed with their previous set, I was looking forward to more of the same this time around. 

Once again, the power-pop rock quartet put on an energetic show. Among the highlights of their set were tracks from their most recent release, 2016's 'Transmissions From Oblivion', which included 'Oblivion Kids' and, as you'd expect their title song 'Last Great Dreamers'.

This band are really good and extremely talented, so if you get the chance to see them, they come highly recommended.
http://metaltalk.net/columns_eighteen/johnny_main_hrh_aor_daythree.php
---
LIVE - Last Great Dreamers (supp. Quireboys) - Wolverhampton Slade Rooms 15 September 2017
"Last Great Dreamers draw a healthy sized early crowd and with good reason ... The band punch out a dandy set of catchy top hat Rock 'N' Roll. 'You Don't Work', 'Ashtray Eyes' and the infectious 'White Light (Black Heart)' provide more than enough proof of their undoubted songwriting quality. With a new album on the Pledge horizon, the Dreamers show no sign of slowing down. The standout 'Oblivion Kids' along with 'Last Great Dreamer' end a top-notch, energetic and highly entertaining support slot.
Guy Shankland - Original Rock 19/09/17
https://originalrock.net/2017/09/19/live-review-quireboys-wolverhamptons-slade-rooms/
---
LIVE - Cambridge Rock Festival - July 2017

"Falling into the caught by accident category come Last Great Dreamers, and I am absolutely thrilled that I did catch them, if the term power pop was not invented for them then it should have been. Think of a more pop minded Jam and you won't be far off the mark, the song from which they take their name is a thing of joy and beauty, as is "Oblivion Kids" . They won't solve the complexities of Brexit, or potholes, but an hour in their company will enrich the lives of many, and I am expecting CDs from a major online retailer any day now."
Ian Ambrose - The Grapevine - August 15th 2017  http://www.grapevinelive.co.uk/2017/08/15/cambridge-rock-festival-2/
---
LIVE - Camden Rocks Festival - June 2017
After all the excitement of Duncan Reid and the Big Heads I just have time to hot-foot it up to the extreme Northern fringe of the Camden Rocks Festival - actually the Fiddler's Elbow is more Chalk Farm/Kentish Town than Camden, but it is worth the walk. The reason for my hike is Last Great Dreamers.
This band were apparently well known back in the early to mid 1990's and part of the same scene as The Quireboys and Dogs D'Amour, but somehow they completely slipped under my radar. I can't understand quite how this happened and I have only recently heard songs of their's such as 'Oblivion Kids' and 'Dope School'. These songs impressed me so much that I really wanted to see the band live - so here I am.
I was not disappointed - this band are very very good indeed. They look great and they sound amazing. Their songs are excellent too - catchy and poppy, but with a gritty slightly punk edge. There is a definite '70s glam rock influence and also a 1980s/90s trash glam look like the Quireboys and Dogs D'Amour, but there is also something more sleazy, and decadent about them - plus an element of danger.
Last Great Dreamers are possibly the best band I see all day at this year's Camden Rocks Festival - they really are the whole package and the band drips charisma and stage presence. They come across as very slick, polished and professional, but without being bland and squeaky clean. On stage they act, look, and sound like major rock stars - and it's hard to believe a band this good never reached that status, and in fact remained unknown outside the underground rock scene.
The Dark Lord of Barnet - Blog - August 1st, 2017
---
LIVE - YORK Fibbers 13/04/18 (w/The Quireboys)
I've been meaning to catch Last Great Dreamers live for quite a while now, ever since hearing their excellent "official bootleg" album Crash Landing In Teenage Heaven and its rather brilliant 21st century glam rock follow-up, last year's Transmissions From Oblivion, and I'm happy to say they don't disappoint. They swagger through tonight's set like a band who know they've got a whole arsenal of great tunes, it's just the world's loss that it hasn't quite discovered it yet, which is pretty much the truth to be honest – the likes of Last Great Dreamer, Glitterball Apocalypse, White Light Black Heart and frenetic closer Dope School would comfortably have been hits in the hands of a more fortunate band. If you're still unaware of this rather fantastic group, you really owe it to yourself to put that right as soon as possible.
Andy Close - Pure Rawk - 25/04/17
http://www.purerawk.com/2017/04/live-the-quireboys-york-fibbers-13417/
---
"If this is the return of a glam-trash band that trod the toilet circuit 20 years ago, they must have been cryogenically frozen when they split. Still pouting on the sleeve in their top hats & kohl like nothing happened since the 70s except Hanoi Rocks, they uncork a suitably defiant romp, boosted by Clash-style harmonies, Slyder's skid-mark guitar salvos & Marc Valentine's animated yelp and his preoccupation with death in the lyrics. The band's experience hot-wires Oblivion Kids, Glitterball Apocalypse & Dope School while You Don't Work shines as a blast of Doll-style attitude"

Kris Needs, Classic Rock - December 2nd, 2016
 
---

"the band are Dickensian visual vagabonds and if ever a group sounded like they looked it's the LGD"

Guy Shankland, Vive Le Rock - November 30th, 2016
 
---
"the most dapper outfit on the weekend's (HRHAOR) bill, they display a naked, punky attitude in their high-energy rock 'n' roll"
- Mark Ashby and The Dark Queen, UberRock (Mar 15, 2017)
---
" the band are Dickensian visual vagabonds and if ever a group sounded like they looked it's the LGD"
---
"Just when you thought those super-cool and hard-rockin' Last Great Dreamers cannot possibly surpass themselves, along comes yet another scorching album comprised of 14 tracks that will cement the band's reputation as one of Britain's finest. " 5*
---
"Transmissions From Oblivion is quite simply wonderful. It impressively merges styles from the band's younger days to create a contemporary gem full of tracks which will appeal to many and will sound pretty awesome live."
Tim Black - Essential Rock Reviews
---
" Last Great Dreamers cover a mixture of styles and sounds but somehow still manage to keep a spark of individuality. Is it glam, rock, punk, new wave, a little sleazy? Whichever label you use it's a lot of fun. Transmissions From Oblivion is a nostalgic slice of glam punk brought expertly into the modern age."
---
"Clearly, this is now more than a comeback; it's an attempted stayback. Transmissions From Oblivion sees the band looking to the past to process the present. No longer 'that old glam mob in the funny suits', they've reinvented themselves for the 21st century while retaining everything I ever loved about that old glam mob… except for the funny suits. In short, Last Great Dreamers are back, properly back, from oblivion. And I can't imagine them transmitting on a more resonant frequency."
Darren Stockford - darrenstockford.com
---
"This album conforms to no modern music boundaries and it cares not one jot for any modern internet obsessed world. It's retro but in a good way I hasten to add, as it has plenty of rock 'n' roll attitude and enough cool tunes to match.... A gloriously dishevelled comeback from a band who should have never gone away."
---
"Last Great Dreamers are proof indeed that you can play poppier songs without compromising on power... ...this is a strong return with songs that should totally kill live"
Dave Scott - Devils Gate Media
---
"MV had said on these pages that the Last Great Dreamers album, when it arrived, might be one to cherish. Now it has, we can say for certain that it is. No longer in oblivion, these transmissions could still have the power to transform them in the way they hoped twenty years back."
Andy Thorley - Maximum Volume Music
---
"Last Great Dreamers opened the day in some style, in both the music and fashion sense." - Steelhouse Festival 2016
Gaz Tidey & Rob Watkins - Uberrock
"Opening the second day of Steelhouse festival on a soggy Sunday lunchtime were rock's dandies Last Great Dreamers....I was very impressed with their live set, it was simply electric."
---
Tim Black - Essential Rock Reviews
"We definitely think that their rock 'n roll energy and talent blended very well with Tigertailz. They play great songs from the past years and new ones too, they definitely have a strong back catalogue and aside from their talent they know how to give a great time to their public."
---
"the sound of a band taking their 70s glam influence & putting a good 21st century spin on it to drag it kicking & screaming into the current era" 4/5*
---
"...they still sound as great as ever and their trademark harmonies are a key part of their sound. Most importantly, they have some really brilliant songs... If you're in a band you should really go and see this group to see how to play live. They put on a show even though the vast majority of fans are there to see the headline act. Last Great Dreamers should really be playing headline, sold out shows. The songs deserve a packed crowd of devoted and loyal fans, they really should be the UK's Cheap Trick! What's particularly exciting, is that the new songs suggest that the new album they are currently working on, could be some of their best stuff ever!"
Paul Hastings - Soul of a Clown
---
"Full of glam stomp, rock sheen, a chorus to die for and a hook big enough to stick your coat on, ...Last Great Dreamers are a very special band, and their forthcoming new album might be one to cherish."
---
"With a singer looking like Marc Bolan (complete in seventies suit and 'Clockwork Orange' bowler), plenty of lurex scarves and waistcoats, Last Great Dreamers are delightfully retro. Think Dog's D'Amour crossed with Slade and The Clash and you're getting there."
---
" the band's new release 'Glitterball Apocalypse' is still chock full of catchy hooks, a punchy rhythm and an irresistibly melodious chorus" 5/5*
---
"it's a great slice of glam rock that reminds me of Rats and Mott-era Mott the Hoople with some really cool soaring guitars over a very catchy chorus. It's a song about all the friends who have lost the fight against their bad habits, but there are some really nice harmonies going on and it's the sort of song that's hard to get out of your head once you've heard it a couple of times."
simonovitch - Whisperin and Hollerin
---
"It's not often that a support band leaves you yearning for more, more, more – especially when the main act consists of none other than ex-Runaways Cherie Curry. But the recently resurrected Last Great Dreamers delivered a half hour show that not only rocked Edinburgh's premier rock dive to the very foundations but the lads were rewarded with a rapturous vibe from the audience. ...the place truly stomped when the Dreamers blasted through their recent hit 'Dope School' – it was quite frankly awesome, and an exercise in accomplished teamwork"
---
" This is the second incarnation of the band, but this is definitely them at their very best. The pressures of the 90's have been put aside and this is simply four guys putting on a good old fashioned rock n' roll show as it should be."
---
"Last Great Dreamers are back and it is nice to see how eager and energetic they are. And if you like Mott the Hoople or Manic Street Preachers, you're sure to love these musicians. They are properly indestructible. And incredibly talented."
---
" A Venn diagram of their musical influences would reveal them playing where glam, new wave and classic rock meet – slashing riffs, gang vocals, stomping beats and killer choruses. The band looks the part too: louche seventies ne'er do wells, their shambolic look and demeanour on stage disguising musical chops and stagecraft that made for a thoroughly entertaining set."
Jonathon Kardasz - Bristol 24/7
---
"the "Retrosexual" stuff gives you an idea as to why they were quite so highly rated in the first place. "Far From Home", with its fine melodies and killer chorus, is the best song Mott The Hoople didn't write!"
Andy Thorley - Maximum Volume Music
---
"This is a refreshing blast of crunchy pop rock in the vein of a pumped-up Flamin' Groovies; melodic, infectious and a lot of fun."
Martin Haslam - Louder Than War
---
" They appear onstage like a cross between The Quireboys and the "droog gang" from Kubrick's "A Clockwork Orange" and proceed to blow everyone away with a power-set of punky, glammed-up showmanship. A must-see live act..."
---
"LAST GREAT DREAMERS won't have much time for dreaming left if new single 'Dope School' is anything to go by! Impossibly catchy and with a generous sprinkle of glammed-up pop-rock and gritty attitude, the band are back with a whack and I predict that they are here to stay! Second track 'WHITE LIGHT BLACK HEART' (only available on CD but not the download) evokes that golden 70's era when songs started out with smoking riffs, followed by a melodious refrain reminiscent of that oh so cool Ramones vibe. It smashes through over three minutes of a wicked little arrangement that boasts dynamic vocals, aforementioned smoking riffs and a punch-laden beat and yeah, you just wanna hear more!"
---
"'Dope School' is a very catchy piece of glam tinged pop rock with a suitably massive hook filled chorus. The other new song is 'White Light, Black Heart', again this band know their way around penning a big chorus." 4/5
Nikk Gunns - Get Ready to Rock
---
" it might just be the finest three minutes forty two seconds of their career so far. A fine tune indeed with a neat riff and punky rhythm section very impressive....The B-side isn't too shabby either..."
"This is the sound of a beat up 'n' roughed up Last Great Dreamers and I must say it might just be the finest three minutes forty two seconds of their career so far. A fine tune indeed with a neat riff and punky rhythm section very impressive. If this is a flavour of what's to come via the new Dreamers line up then bring it on. This is a very impressive single indeed."
---
"Last Great Dreamers have bottled a bit of lightning"
---
"Their songs, filled with pop-type hooks and big choruses...exuding proper rock n' roll spirit they are more than worthy of your attention"
---
"this was the best gig I'd seen the band play since they reformed. Energy-wise they found a fresh peak to scale, and Slyder's guitar had an untamed edge that pushed their 1970s glam-rock influences forcefully to the front of the stage"
Darren Stockford - darrenstockford.com
---
"maybe the greatest band you've never heard, a four-piece that blended glam, stomping indie and punk, to create an infectious, hook-laden racket, full of swagger and balls (think a supercharged Beatles or Big Star meeting The Ramones and The Quireboys head first in a glorious musical collision). The Last Great Dreamers have it all, the style, the substance, the swagger and a fistful of bona-fide sing-a-long anthems, what's not to like?"
William Munn - Rhythm & Booze
---
"every song rides in on a turbocharged hook and is packed with harmonies...They don't write them like this anymore"
---
"the stuff of teenage boys and girls dreams"
---
"Last Great Dreamers are quite the phenomenon these days - returning to the scene some 20 years after the release of their debut album, looking and sounding not only better than they ever did before, but better than many a band half their age or with twice the road miles!"
---
"Last Great Dreamers pick up where they left off, this venue has not seen so much fun on a Sunday night for a long time."
Richard Thompson - Classic Rock AOR
---
"These are classic pop-rock songs, written to be played live and loud... Great songs and great entertainment will always endure though, and armed with a back catalogue as strong as theirs, this could just be Marc, Slyder and the boys' time."
---
"...it's an entertaining, spirited and infectious 2nd album...The Last Great Dreamers have all the ingredients to be popular again."
Richard Thompson - Classic Rock AOR
---
"The release of 'Crash Landing In Teenage Heaven' represents one of the more breathtaking returns in some time and, irrespective of the hows, whys and whos, more than deserves its moment in the sun - hell, it's been in the shadows for way too long. One of the releases of the year...Essential."
---
"thoroughly embracing a sassy nod to the 70s Glam scene whilst simultaneously gripping the tails of classic Rock'n'Roll moments offered up by the likes of Sex Pistols, The Kinks, Oasis and many others...this album is infectious and essential"
Gary 'Rockulus' Clarke - Metal Talk
---
"youthful rock 'n' roll exploits ... energy and spirit ... Last Great Dreamers are doing it right"
Darren Stockford - darrenstockford.com
---
"The Dreamers were among the very best, adding hearty doses of Bolan boogie and Kinksesque story-telling to the template. 1994's debut album Retrosexual was chockfull of classic songs". "this follow up is enthralling from opener No. 1 Wonderboy to closer Crash Landing In Teenage Heaven. Single Ashtray Eyes is foot-stamping, singalong powerpop monster. Ballads Hello and Gold Painted Butterfly are redolent of stadia, without pretension, full of heart. Sci-Fi Louise's dubby verse building to a huge chorus. The rest filter the best of Britrock from the 60s on with glorious results." "Marc has one of the great lost rock voices. Slyder's lead work is always tasty, tasteful, rich and inventive as Mick Ronson. The duo's songs deserve a huge audience."
---
"New dandies of British Rock"
Kerrang! 1994